By Michael Msika and Jan-Patrick Barnert, Bloomberg market commentators
The mood in the market is decidedly anxious. Worries are mounting that risks from tightening restrictions in Europe to U.S. election uncertainty will snowball, pushing stocks over the edge in a repeat of February's selloff. Strong gains at the start of October have given way to losses, and previous winners such as tech shares are signaling a shift in sentiment.
The Stoxx 600 has already lost 2.7% this week and futures are signally another sharp drop today. After months of going nowhere, the momentum in the market is now to the downside. The proportion of stocks with MACD sell signal has been rising steadily this month and is highest since August.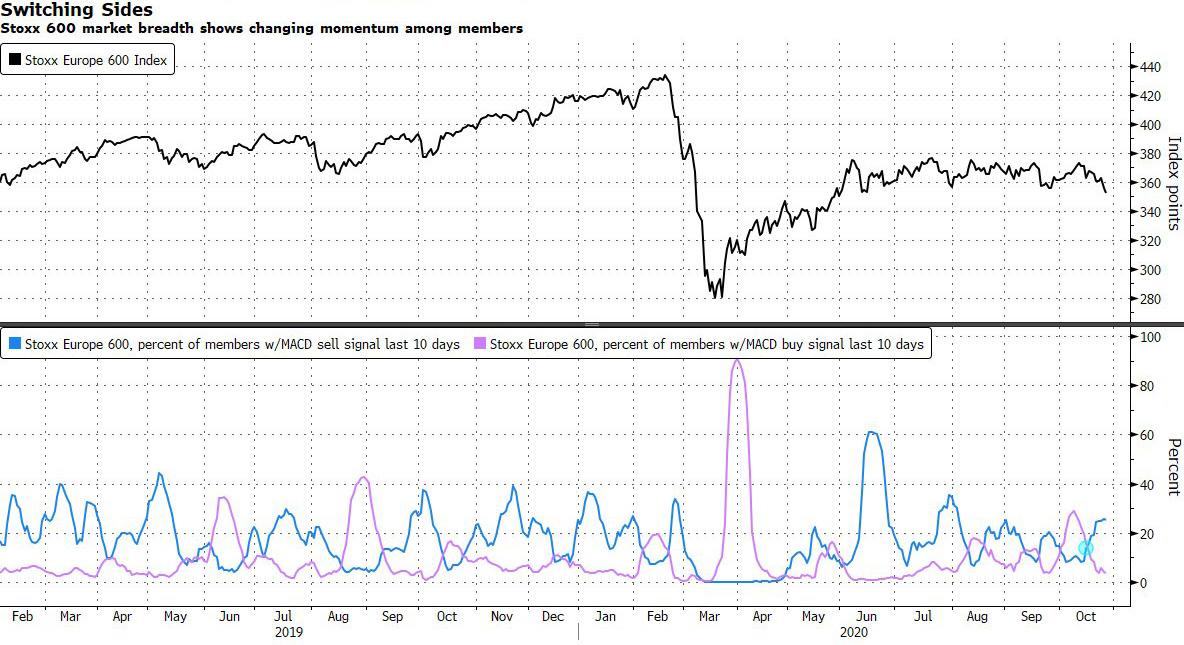 Instead of the V-shaped economic revival many had hoped for, the final months of the year may bring more turmoil. New lockdowns are threatening Europe's nascent recovery, U.S. election uncertainty is reaching fever pitch and the country's fiscal stimulus talks are dragging on. Meanwhile, the ongoing earnings season has brought little relief.
For the first time since June, technology isn't the leading industry in Europe this year. While the sector had faced challenges in recent weeks, SAP's dismal outlook was the final blow that triggered Monday's worst slump since March. All Stoxx 600 sector gauges are in the red for 2020, with the exception of the personal care, drug and grocery stores index.
"If this situation remains, investors are likely to increase their trading exposure towards safe havens like
Keep reading this article on Zero Hedge - Blog.