The old mantra that 'the market is not the economy' has never been more true than in Germany as the country's stock market continues to surge to record highs as the nation's economy enters recession.
Germany suffered its first recession since the start of pandemic, extinguishing hopes that Europe's top economy could escape such a fate after the war in Ukraine sent energy prices soaring.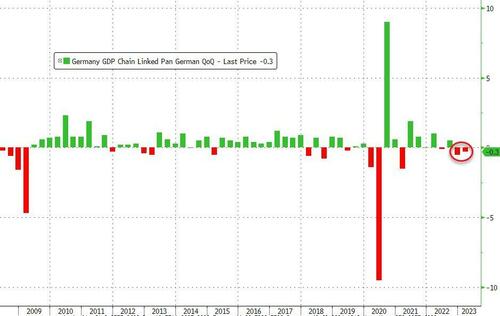 Q1 GDP shrank 0.3% from the previous three months following a 0.5% drop between October and December.
"The reluctance of households to buy was apparent in a variety of areas," the office said in a statement.
"Households spent less on food and beverages, clothing and footwear, and on furnishings."
They also purchased fewer electric cars as incentives were reduced. 
But, of course, markets shrugged off Thursday's numbers – despite their implications for the wider performance of the 20-nation
Keep reading this article on Zero Hedge - Blog.