By John Kemp, Reuters senior energy analyst
Saudi Arabia's energy minister has warned speculators to "watch out" – an implied threat to cut production again to drive prices higher when ministers from the expanded OPEC⁺ group of exporters meet on June 4.
"I keep advising them (speculators) that they will be ouching, they did ouch in April, I don't have to show my cards, I am not a poker player … but I would just tell them watch out," Energy Minister Prince Abdulaziz bin Salman said at a conference on May 23.
Total hedge fund short positions in the three main Brent and WTI futures and options contracts had more than doubled to 184 million barrels on May 16 from 79 million four weeks earlier.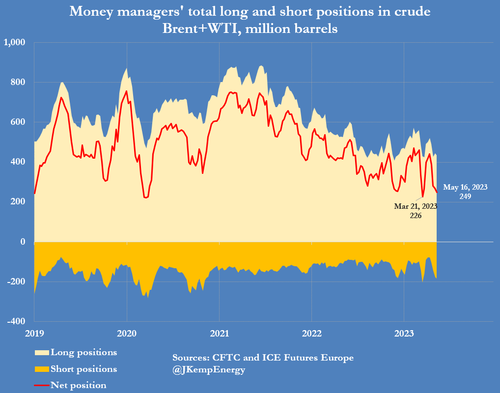 In a marked turnaround in sentiment, bullish fund positions outnumbered bearish short ones by
Keep reading this article on Zero Hedge - Blog.